Curative and interventions

Curative and interventions
The fundamental unit of the solution, this module allows you to collect, manage and close your missions in record time!
Optimise the efficiency of your processing simply .
✔️ Without installation ✔️ Free trial ✔️ No credit card required
Creating an intervention
Simple and intuitive to use, in a few clicks you describe your request, create and send your ticket. And that's it!
From a mobile, tablet or PC
Selection: level of urgency, location, equipment, description
Adding a photo, video, document or intervention report
Selection type: curative, preventive, disaster, event, other
Creation possible from a public interface (without identification)
Adding customisable fields
Technical company:

you can create tickets for your customers or simply be notified when your customers suggest a ticket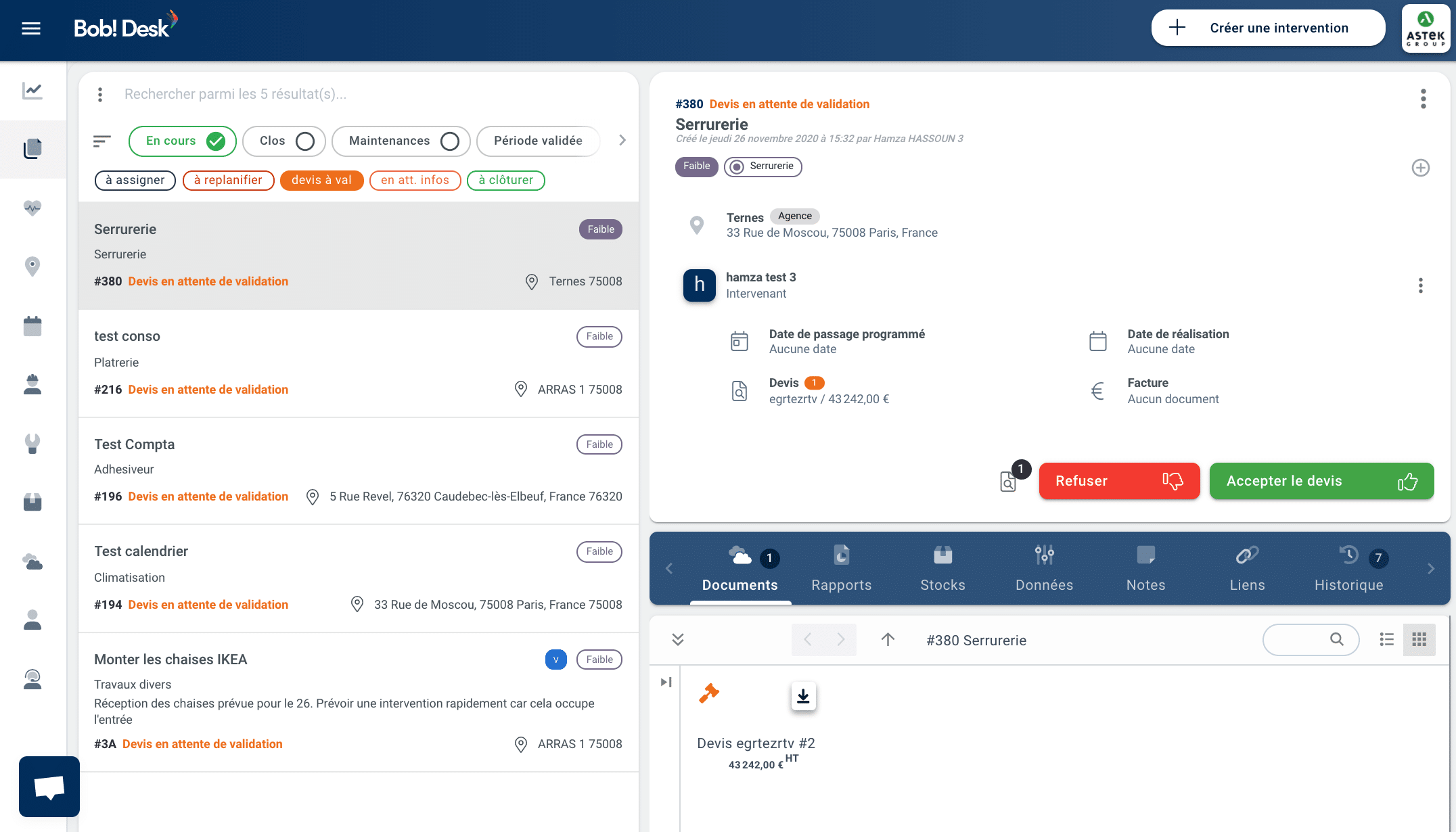 Validation and processing
Open ticket, waiting to be programmed, quote validated, ticket closed, worker assigned, etc., everything you need to process your tickets
Acceptance / refusal with reason for cancellation
Proposal or stakeholder assignment mode
Notification of proposal or assignment by email and/or SMS
Intervention threshold amount without quotation 
Technical Company:

your actions on tickets are automatically notified to your customers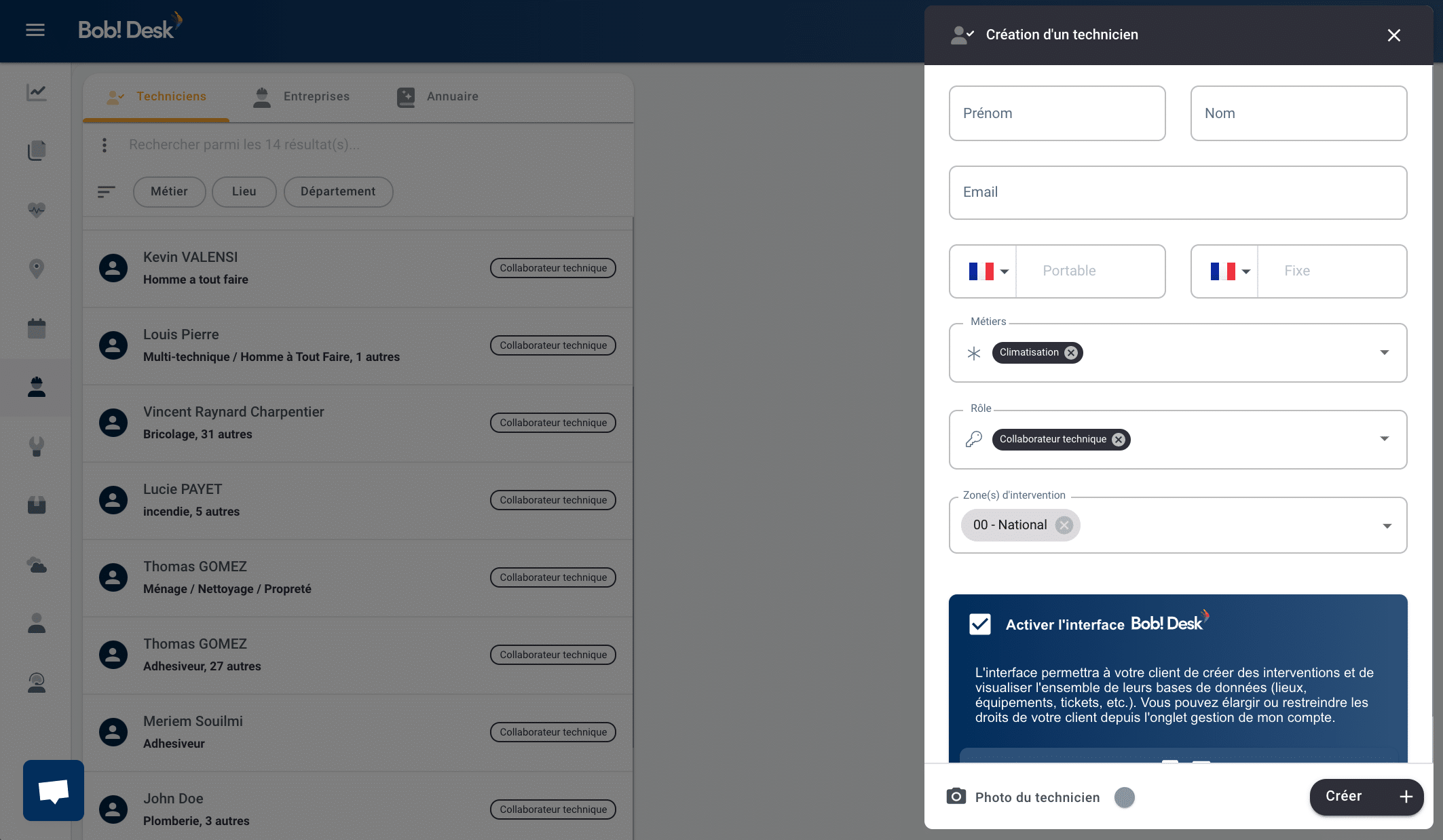 Customer, technician, service provider interfaces
Each actor has access to the information he needs to manage, monitor and evaluate maintenance, all personalised, who can say better? 
Customer interface: create and view all current tickets
Employee interface: for your teams (company employees), to create and consult all current tickets
Technician interface: for your in-house technicians to access the planning, ticket list, equipment
Service provider interface: for your external service providers or subcontractors to consult the list of tickets, load quotes and invoices, fill in intervention reports
All interfaces are configurable
If you are a customer you can provide an interface to your service providers
Technical company:

you can provide an interface to your customers and/or subcontractors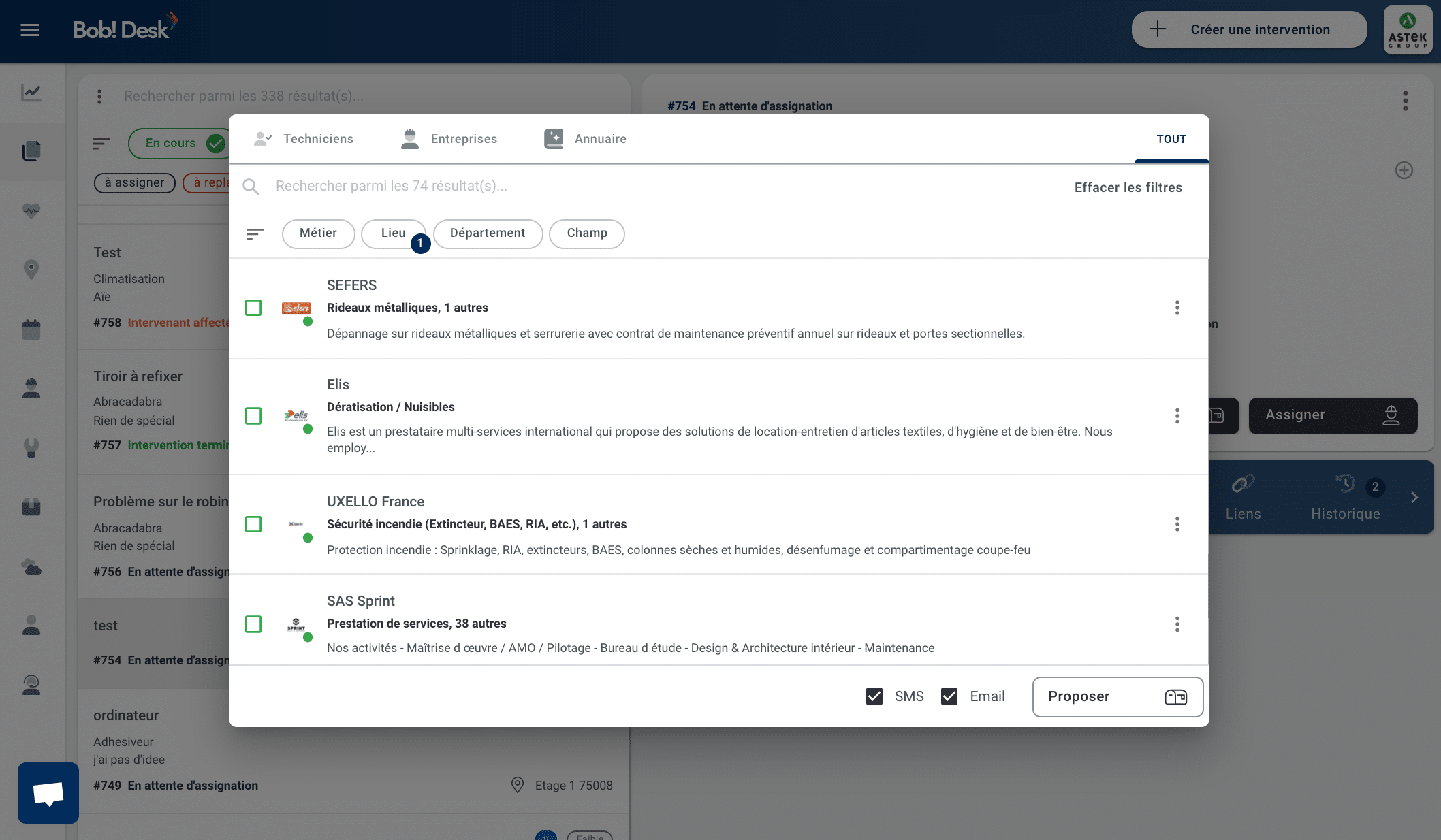 Steering and transmission
For a piloting of your maintenance worthy of a formula 1 circuit, we have concocted tailor-made modes for you!
Assignment mode: direct assignment to a stakeholder
Follow-up and notification via SMS, email and interface
Proposal mode: sent to several stakeholders
Scheduling via date entry or via the calendar
Technical company:

you can transfer a customer request to one of your technicians or a subcontractor
Ready to create your account?
Saves you an average of 3 hours 20 minutes per week
Lets you know the status of your tickets at a glance
Allows you to track the history of a particular location
Allows you to contact a provider directly via the ticket
Make an appointment for a presentation of Bob! Desk and ask all your questions: